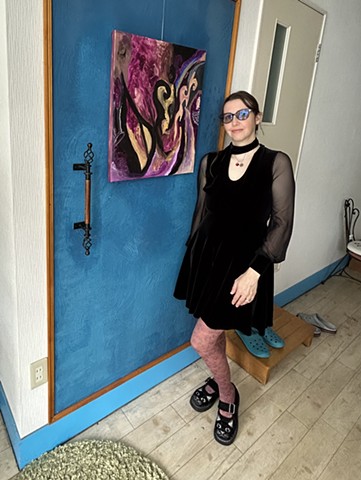 Stefanie Lynn Casaceli-Hendra Fine Art Photographer and Multidisciplinary Artist with 26 years experience.
2023
"Sacred Ground" Solo Exhibition in Iwakuni, Japan by Stefanie Lynn Casaceli- Hendra.
Exhibition Dates July 01, 2023, to August 31, 2023 (JST).
Hours: Monday-Friday (9:00-16:45).
Closed on Japanese Holidays.
Directions: Address: 2 Chome-21-33 Ozumachi, Iwakuni, Yamaguchi 740-0032
Please wear a mask and sanitize your hands in the shop.


About the Artist:
Stefanie Lynn Casaceli-Hendra is a multidisciplinary artist. She spends most of her time taking photographs, painting, creating fiber art, and playing the piano. Stefanie has 26 years of experience with her art. She was diagnosed with a Brain AVM in 2016, and most of her work is about coping with her AVM, her HLA-B27 diagnosis, menorrhagia, her family-military life, women-empowerment, LGBTQIA+ community, Halloween, and her bucket-list travel photographs in Japan and Italy. She has been published nationally and internationally in PIKCHUR Magazine, Artist Portfolio Magazine, Skywriter Magazine, All She Makes Magazine, and Stars and Stripes-Welcome to the Pacific. Stefanie was Maker of the Month through PXP Contemporary Art Gallery with her fiber wearable scarf art. She has faithfully been an artist in residency in Japan since 2018. Apart from her residency is Nakamura Camera Shop where she is represented and has had four Fine Art Photography Solo Exhibitions. Stefanie currently lives and works in Japan and is also the founder, publisher, curator, and editor of A.B.F.M. Magazine® and Stefanie Lynn's Scarfs®.
In my current exhibition "Sacred Ground", I am exploring sacred spaces in the form of my beliefs, spirituality, being grounded, motherhood, respecting sacred spaces, and having boundaries.
From our perspective to a very sacred one, be very respectable and do your research before you enter a sacred space to grant you a glimpse or even passage into the realm of the universe. Wander, explore, and discover but also reserve the right to be an advocate for yourself.


I was taught old-school photography in the darkroom. What I have learned is digital photography is one more tool for expressing oneself in the arts. Art can be very therapeutic and it enlightens that you are not alone and you can overcome anything in this human condition. We are navigating through this life and sometimes you don't know where you are on your journey and where you want to go. Try to accept, invite and embrace change.
My photography work is held in private collections in Japan, France, Germany, Australia, The Netherlands, Switzerland, Austria, the United States, and the United Kingdom.